the local mall
So much for complaining, I finally realised the local mall does have a lot to offer today. Not A LOT if we were to compare with Indooroopilly Shopping Centre or any neighbourhood mall in Singapore but, quality and price wise, America has it all! Yes, even in 'kampong' Amherst.

We were shopping at Target! Yes Target. I shop in Target in Australia too but Target America is way bigger. It's bag section is awesome, probably a 10m by 10m area just full of bags. And loads look like the replica of Ralph Lauren or United Benetton of Colours. And they are cheeeeeeaaaaaaappppp, 'like' (Americans love to say 'like') 9 to 10 bucks? USD I'm talking but hey, it's still good accessories for a reasonable price. And there were 'like' five to six rows of cosmetics and one of them was devoted to cosmetic storage, 'like' really cute and colourful and big cosmetic bags I've been looking for all time in Singapore! We spent almost 2 hours at the megamart before hitting the smaller stores.




Jihyen, my new Kor-American hall mate at the bags section (these are the cute Liz Clairbon, UCB, Espirit, DKNY, CK replicas!)

And I love the smaller boutiques toooooooo! I was just so excited about everything. I like the casual smart look (i don't mean smart casual), real stylish! I, of course tried loads of clothes.. the summers' in already. And the winters' on sale. But hey, I didn't get much. Just a top for $2.25(Yes! down from $19.90.. can you believe it??? And it's made locally.. NOT china) and The Oprah Magazine which I've been searching for ages..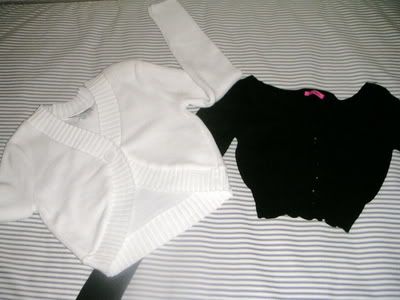 Look how similar my new white $2.25 cardigan is to the $55 black Mango one I used to wear all the time


We later went for a quick dinner outside the cinema. There was nothing much to offer though. I had Taco Bells (but still, tacos here seem to taste better than Singapore 'like' how the Quarter Pounders in Australia's Maccas beat Singapore's cheese burgers). $4.25 for three Tacos and a ultra ultra large soft drink. Definitely worth it. Yumm!

back in campus after watching Aviator (awesome acting by Leo D C!)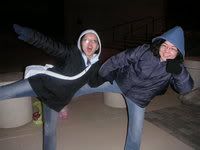 Jihyen and Huyen (also from Sylvan. she's a Viet-American)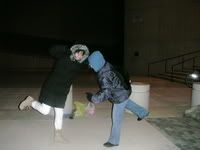 Jihyen and I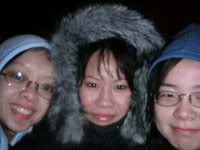 Before we hit the sack