Thrown in the Alaskan Wilderness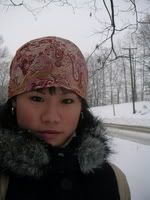 Hey anyone there???? I hope someone is reading this. I still can't believe I chose this place to be my exchange destination! Amherst in Massachusetts. It's snowing almost everyday and it's minus 13 degrees Celsius right now. Last night was worst.. minus 20!!!!!!!!!! I really hate this cold.

Good thing Grace is blessed with a chameleon character. She's usually highly adaptable. This time round is a real challenge... but she's getting better.

I hope to get my readers back. People in America are actually quite nice. Not like those arrogant, nasty characters I have been told before. Most are keen to help and guys hold the door for you even though you're 5-6 metres away! Nice.

I'm still hoping to head back to Manhattan. Had a glimpse of the city on my way to Amherst. It's amazingly huge. Buildings were mostly in a red tone. I think I would love to live or work there for a while.

Was told by one of my lecturers that it's not difficult to get an internship with the media here. Looks like she could hook up something.

Will update more soon.. have to go for lessons now.