London- the real thing
19th - 24th January 2005
****************************************************************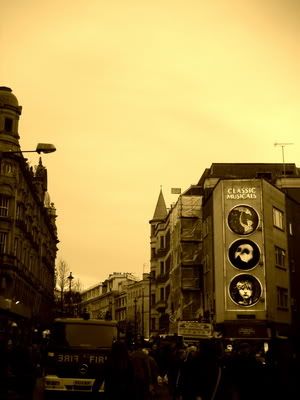 The longest flight I've ever taken - a whooping 12 hours and 51 minutes. The flesh on my bottom was not enough to cushion the pressure. I was feeling the fatigue, mostly on my thighs and then on my neck and shoulders. The initial grumbles about having to stopover in Frankfurt had to be taken back. I was glad I had to do the transit.

More than 10 hours on a non-stop flight, without a personalised TV set was a torture (I've swear not to ever take Luftansa again (fingers crossed xxx). Another airline already blacklisted is Quantas. Grace shall not tolerate flights with no footrests and personalised TV sets). Thank God I had the foresight not to sleep much the night before, so I would be tired enough to sleep through most parts of the torturous trip.

Another 1 hour and 40 minutes passed and the plane finally touched down on the runways of Heathrow Terminal Two.


****************************************************************


I took out the neatly folded piece of paper in my pocket and stared hard at the tube map near the ticketing machine. And I gave up. The London tube system has to be one of the most complex in the world, or perhaps, of all I've seen. With 20 kg on my back and yanking another 35kg on my side, I walked back three metres to the station control for enlightenment. Perhaps it was good, no, was great actually, that Grace wasn't born intelligent, I walked away from the station control with some help with the luggage. And I was on my way to Southwark within two minutes.

The Picadilly Line ran from Heathrow to only God knows where... it was long! I stopped somewhere in middle, at Green Park, where I had to change to the Jubilee Line which then took me to Southwark within 5 minutes.


****************************************************************


I stood at the road junction outside the Station and caught Vaughan House almost immediately. Wonder why Charles seemed so concerned I might have a problem finding it that he drew me a map (Laughs). I observed the traffic for a few moments, trying to figure how I could bring across both luggage without help. And not surprising enough, I gave up again and stopped a couple of people on the street for help. Come to think of it, my infamous huge lime green suitcase has truly made impressions round the world! The stylish, feminine colour that got many ladies (and gays) turning their heads and the weight that caused many men to struggle and blush. But anyway, 1 minute across the road and another minute's walk along Nelson Square, and a last 30 seconds up the lift, I was finally at Charles' studio apartment.


****************************************************************


After a short nap, I was on the tube again. Since I only had half a day left, I decided to head straight to London's main shopping area - Bond Street.

Unlike Orchard Road in Singapore, Bond Street is filled with many more low-rise buildings. From mid-range European brands like Mango, Zara (what else would catch Grace's eyes except for her two greatest loves)...well ok... and Marks & Spencers, GAP, H & M to branded goods like Guess, Coach, Prada, Kenzo... they have it all. Most of these stores occupy a building on its own. And therefore the reason for so many two to four-storey buildings.
__________________
Along Bond Street
__________________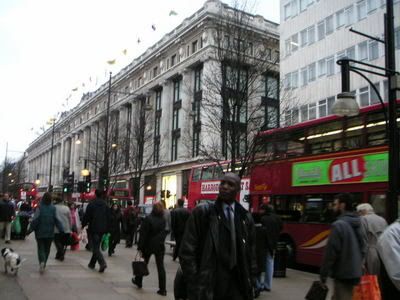 ______________________
the quiet side of Bond
______________________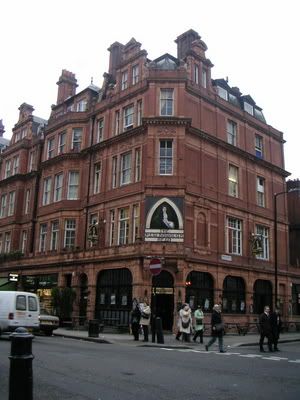 All in all, it's filled with mostly familiar stores. It also wasn't too unaffordable like what I had been told or probably I had gone at the right time. At least, I thought it was quite worth the money to pick up a few discounted scarfs and fragrances.

I was, however, more intrigued by the intricate British architecture. White, brown, grey, matched by its red telephone booths and classic London cabs that throng the roads, I felt as if I was brought back in time.


****************************************************************


Regretfully, Grandpa wasn't on my mind as I pace down the road (Read my earlier post "London"). Something that I resisted admitting, my reason/s for coming to London.. for the past one year... my deepest, hidden longing... had been. This made me feel as "grey" as the dirt puddles on the side of the road. I blamed that on the weather and zipped up my black down jacket and continued walking.


****************************************************************


One of my best friends during my primary school years finally found time to meet up with me. Yuru and I haven't met for two years and studying in different countries made meeting up in recent years even more difficult.

Yuru's aunt and sis had been in London since the week before and would only leave a day later. The initial plan was to have a day with me after they leave so I was extremely delighted when she asked if she could meet me in between her classes.

________
Yuru & I
________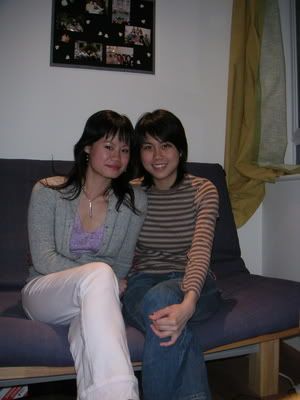 We met at 1pm and she brought me to a nice modern sandwich bar called Pret a Manger (pronounced as "Pret-a-mon-jay" I was told or am I wrong???). Its interior was like a version to the California Bistro in Singapore, a very stylish, working class feel created by the use of steel chairs and tables. Plus with its location and generally cheaper food, it was an awesome budget lunch for anyone. We were at the branch near the prestigious London School of Economics in the City, where Yuru is doing her degree in accounting. And since seats were mainly occupied international students, I fitted in almost instantly.

It didn't take long to break the ice even when we had not met for a couple of years. Yuru was as sincere as ever. She's probably the smartest female peer I ever had; an SIA scholar and a bright career ahead but her pride never got the better of her. She's always humble and I found myself connecting very fast with this friend who has drifted from me for a long time.

Yuru had something like a seafood sandwich while I had my favourite avocado with chicken. Aw... that sandwich was the best I've ever tasted! Plus my most beloved sinful drink, Coke, the conversation flowed well over 50 minutes before Yuru had to rush back for her classes. It was a great meeting.


****************************************************************


Those greyish thoughts came back again as I strolled along the streets of Leicester Square alone. But these greyish thoughts put smiles on me at points as I recalled the text he sent me earlier on. Charles was coming back from Dubai this evening, two days earlier than scheduled. I looked at the time on my Samsung, it was barely half past two.


*****************************************************************


Leicester Square and the Picadilly Circus are my favourite spots in London. Leicester Square and Picadilly Circus are the hosts to world-renowned musicals and plays, great restaurants and cafes. Colourful billboards hung on the colonial architecture and all kinds of songs were played and amplified from movie theatres, malls and eating places. It was definitely a place of its kind. I couldn't imagine the streets as being much different from a century ago. The cold wind added on to this romantic, ethereal ambience. I was enjoying being alone in London for the first time.
__________________________________________________________
Leister Square to Picadilly Circus (where all the musicals are)
__________________________________________________________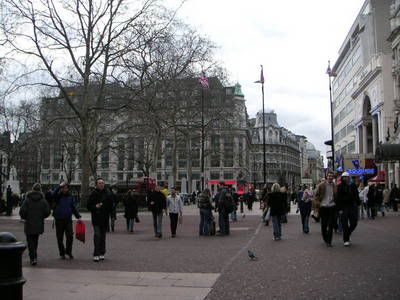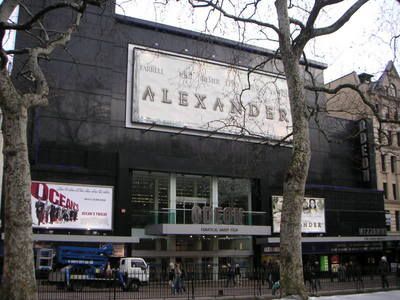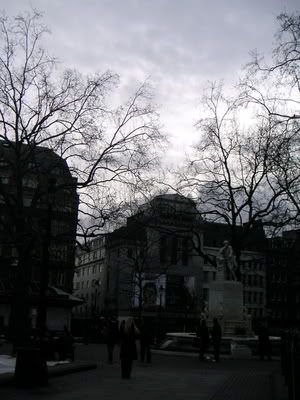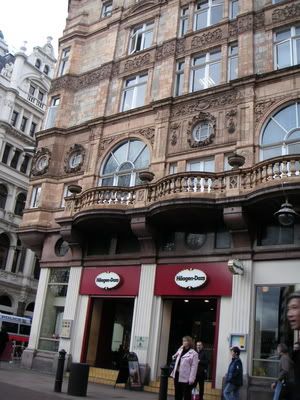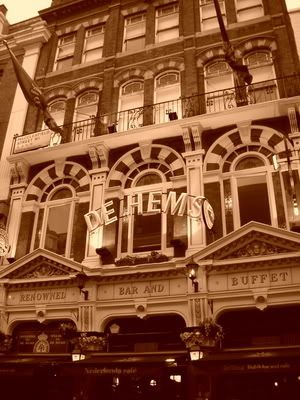 Did I walk or did I take a train? I can't really recall how I got to the London Eye. But this gigantic Ferris Wheel was quite a sight. Pity it had stopped for its annual inspection while I was there or I would surely been up there for a bird's eye view of London. I took some tourist's pictures and moved on.

London was ready for dusk by four. A short walk from the London Eye brought me to a distant view of the Big Ben. The sight was spectacular across the river. The sky was a kind of red I would describe as dark peach. It was a perfect backdrop to the ancient clock. I sat on the bench by the river and watch on.

"This is London," I thought to myself. The freezing breeze didn't seem to matter anymore.

____________________
London Eye from far
____________________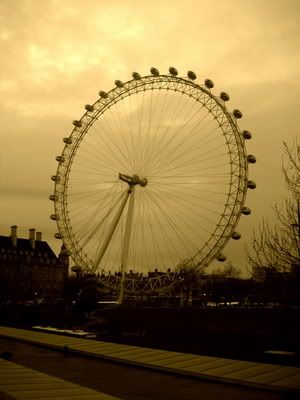 ________________________
London Eye from bottom
________________________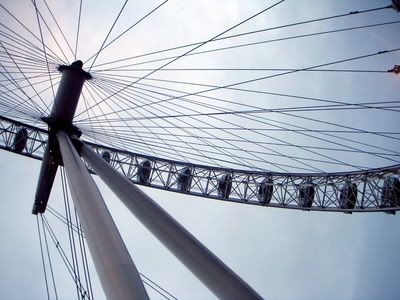 A stroll across the bridge brought me right in front of the Big Ben. There wasn't much time to look around though. I took a quick stroll down Westminster Abbey and was on the train back to Vaughan House again.

________________________
Big Ben and River Sights
_______________________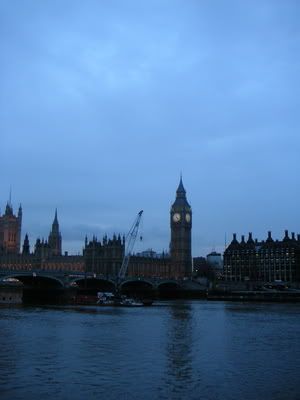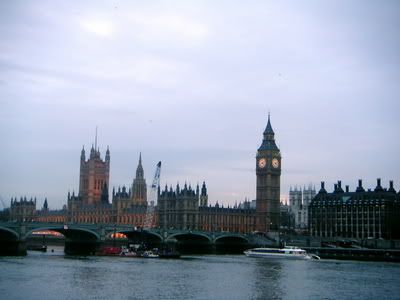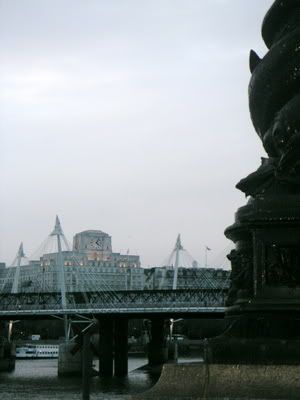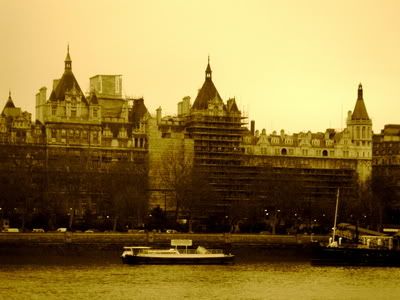 A tired but clean-shaven Charles returned home at a quarter past eight. A gentle "hi" was almost all we exchanged, I felt. It really seemed like quite some time since I last spoke to him but I just sat by the bed as he opens his letters. I kind of feel bad for not getting dinner ready and making the house smell of fish (Well embarrassingly, I had gotten dinner ready for myself!). But again, my usual spontaneous nature seemed to be put to sleep whenever I'm faced with him ...


****************************************************************

Glass Window - A dream - earlier posted on April 22, 2004

I had a dream.
A weird dream that stirred my heart.
You and I,
away in the cold, unfamiliar Massachusetts,
staying side by side.

Yet we were separated,
by a thin glass window.
A window that could not be opened,
at least for this moment.

But you were there for me,
and so was I for you.

But should there be no speech,
and should there be no touch,
would our hearts still bind?

You asked if I loved you.
"Trying not to" I replied.

I'm just waiting, Charles.
For the day when the window could be open.
Who knows what would happen.


****************************************************************


My last London day was spent with Zek. I missed him when he was in Paris during the first few days I was in London. I made him bring Subway sandwiches as I didn't have the electronic key to come back to the apartment for my luggage... It was awesome catching up with this mate I shared so many deep conversations with over the past five years. We really have so much to talk about, from friends to BGR to uni to religion and the great times we had at OBS.. Zek really gets what I'm talking about! Pity it was a rushed 4 hours. I'm looking forward to meeting him again during Summer.

So I was back in the check-in lounge again. Alone and looking forward to what is to come. America.