That stupid eyebrow plucker
I can't believe this rude and sissy eyebrow plucker is made 'famous' by the 'Singapore Idol'. This arrogant, vain and brainless himbo is surely basking in his newly acquired 'fame'. Fame gained by singing William Hung's rendition of 'She Bangs' and doing a striptease in his sleazy, yellow hot pants. How creative.

I won't deny my renewed 'hatred' for this guy. This guy whom I've never really knew as a person...but have grown to detest him so much.

He's a familiar 'mascot' for CK Tang. Nicknamed the 'eyebrow plucker', he goes around asking people if they wanted his first class eyebrow shaping service. Yes, right in the middle of the street, in front of one of Singapore's upmarket shopping malls, he approaches young girls and pushes them against the nearest pillar to pluck their eyebrows for them. I was one of those unfortunate people whom he approached.

"Miss, miss...." He called out as he walked towards me.

Having seen him around for some time, I knew he was trying to promote his services. I was quick to refuse.

"Sorry, I'm not really interested," I said.

But my polite refusal went unappreciated. He stopped me from walking away and said out loud, "DO YOU KNOW YOUR EYEBROWS ARE VERY CROOKED?"

My left eyebrow had been crooked after an operation I had above my left eye and I must admit that I'm extremely conscious about my them. I was infuriated, humiliated and unimpressed by his 'salesmanship'.

So guys, allow me to introduce the greatest loser on earth.. STEVEN LIM..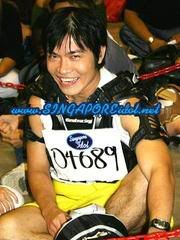 Visit his website at: www.stevenlim.net to watch his 'sexy' video and music clips. Note: do it before dinner.